Pro-Performance Blender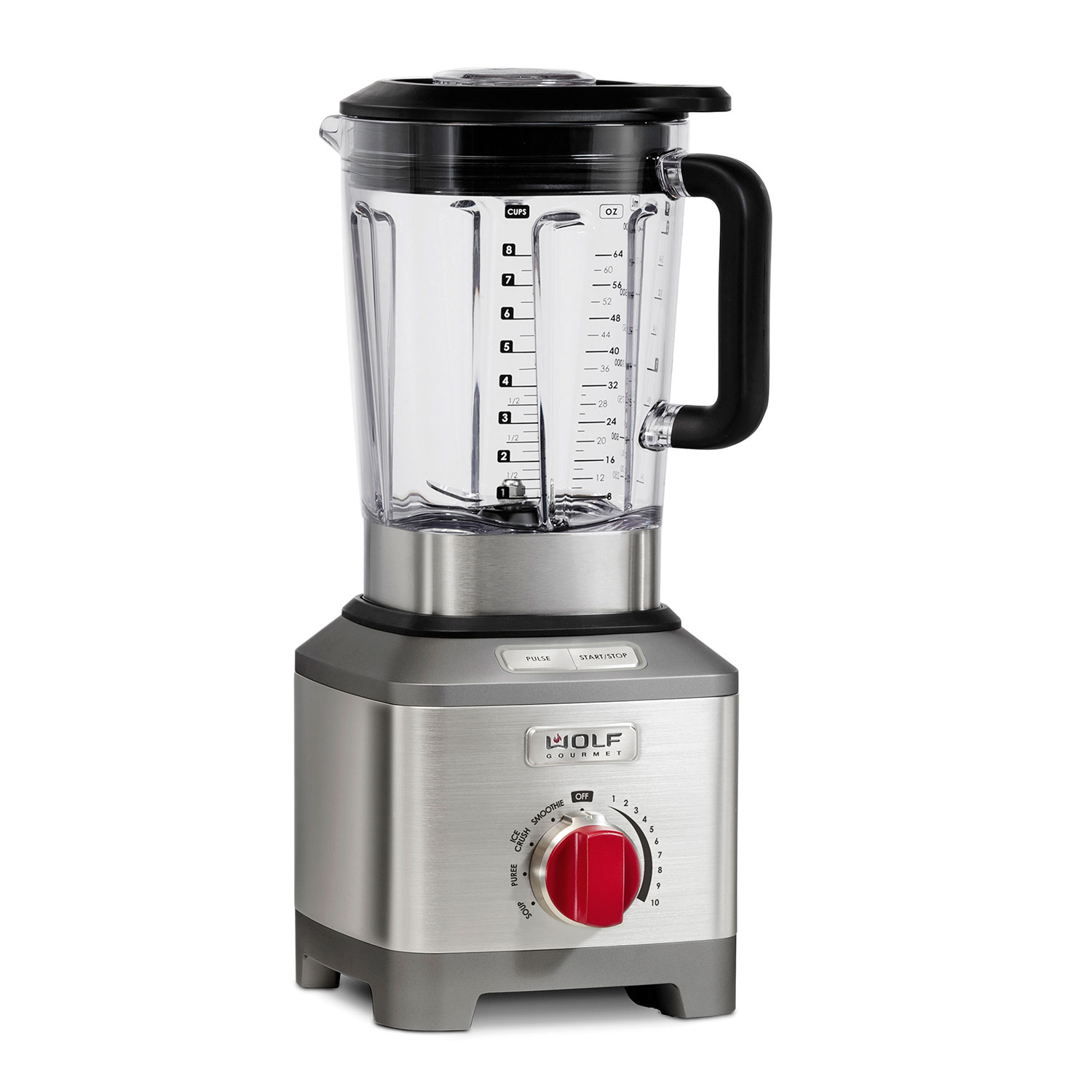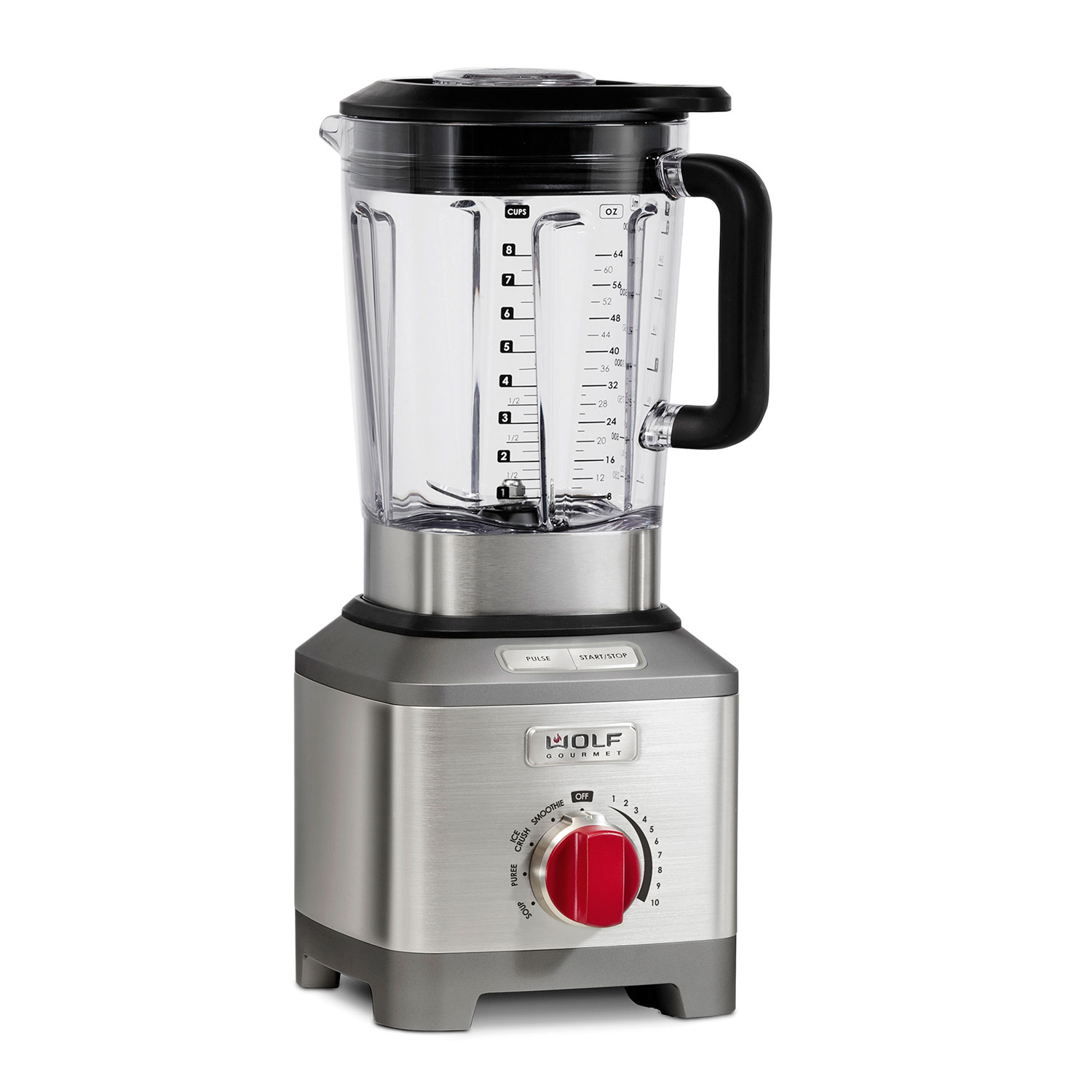 Pro-Performance Blender

Item number: WGBL200S

Suggested Retail Price: $599.99
With the ability to make everything from breakfast smoothies to multi-course dinners, the Wolf Gourmet pro-performance blender offers exceptional speed, power, and versatility. This blender is fitted with a powerful 2.2 peak horsepower motor that propels the blades to over 200 miles per hour, letting you puree sauces, heat silky soups, grind grains, and create smoothies. Four pre-programmed settings offer walkaway convenience so you can attend to other tasks, while the infinitely variable speed dial gives you the control to blend ingredients to your exact preference. The 64-ounce jar is capacious enough to make large batches of soup or milkshakes for a crowd, but is small enough to tuck neatly under standard-size cabinets.

Powerful Performance
2.2 peak horsepower motor propels the blades to speeds over 200 miles per hour, delivering an ultra-responsive blending experience and superior results for all types of foods.
Program Settings for Simplicity
Steaming, hot soups. Creamy green smoothies. Perfectly pureed dips. Cocktail-worthy crushed ice. Four pre-programmed settings–soup, smoothie, puree, and ice crush–provide walk-away convenience.
Manual Operation for Total Control
Infinitely variable speed control with pulse option lets you blend ingredients to your exact preference. Pulsing function works with any manual blending speed.
Large 64 Ounce Capacity
Shatterproof, BPA-free Tritan copolyester jar holds 64 ounces–large enough to whip up smoothies or milkshakes for a large group.
Five Year Limited Warranty
Built to provide years of high performance blending, the Wolf Gourmet pro-performance blender is backed by a five-year limited warranty and the support of Wolf Gourmet's dedicated customer service team.
Quieter Blending
No need to bring the conversation to a halt–the unique motor design helps dampen harsh noise during blending.
Classic Stainless Steel
Stainless steel blades, made in the USA, are hardened for durability. The stainless steel construction is a long-lasting, seamless complement to Wolf cooking appliances.
Accessories Included
The emulsion cup allows you to add ingredients slowly into the blender jar for deliciously silky mayonnaise, dressings, and marinades. The filler cap with measurement marks is convenient for crafting cocktails. A tamper fits into lid for mixing thick or frozen mixtures.
Sized Right for Countertops
Despite its large 64-ounce capacity, the blender is sensibly sized to tuck neatly under standard-size cabinets.
Simple Cleanup
The blending jar, lid, tamper, emulsion cup, and filler cup are dishwasher safe, and the jar pad is removable for easy cleaning.
Pro-Performance Blender

Item number: WGBL200S

Suggested Retail Price: $599.99
Need help or have a question about ordering? Call (844) 885-8770
Items in stock unless noted. Will ship within 1 to 2 business days. Standard ground delivery will take an additional 5-7 business days.
If an item is subject to sales tax in the state to which the order is shipped, tax is generally calculated on the total selling price of each individual item(s) in an order, and may also be calculated on the shipping charges.